Yachts
Luxurious Yachts in Miami
Luxury Yachts
Our Mega Yachts Miami
222′ Nichols Brother
The Sea Fair luxury yacht event venue offers the best in Miami high life, capturing all the glitz and glamour you're looking for for your next private event or party. Available for events nothing says "Miami style" quite like red-carpet boarding on to this sleek and elegant luxurious yacht. Designed by internationally acclaimed yacht designer Luis De Basto, this 222 ft uber-lux mega yacht (top yachts Miami) offers the ultimate excursion experience where sea and sky converge with iconic Miami's unique glamour!
Its multi-faceted event spaces make Sea Fair one of the most sought-after event venues available in Miami. In November 2016, Seafair completed a 6 million dollar remodel. The charter fee includes many necessary event items such as: Red-Carpet Dockside Entrance, Attendant VIP Guest Check-In, Modern Dining Chairs, 12 LED Flat Screen TV's, GOBO Light Projection of Your Logo on the Sky Deck and Outside the Ship's Entrance, Unique Cocktail Lounge Tables, Stools and Sky Deck Designer Furniture, Elegant Decor, Buffet Tables, Reception Areas, Six Fully Stocked Bars, Dining Tables and Linens, Multiple Branding Placement Opportunities and Ambient Custom Color LED Lighting along with Specialty Interior Lighting.
These amazing inclusions are typically rental items and additional charges at other venues. Other Amenities Available Include: DJ Entertainment, Cigar Roller (100 Cigars), Hora Loca Performers and 6MM Fireworks Show Display.
Specs Miami yachts
Builder: Nichols Brothers
Year: 2009
Length: 222ft
Beam: 28ft
Guests: 600
Bathrooms: 22
Draft: 6.6ft
Speed: 7kn
Refit: 2016
128′ Oceanfast
This 128ft custom yacht was built in 1996 by Oceanfast and underwent a full $3mil refit in 2020. Previously named Perseverance II her luxurious interior is designed by Sam Sorgiovanni and her exterior styling is by Bannenberg & Rowell. Oculus's interior layout sleeps up to 10 guests in 5 rooms, including a master suite, She is also capable of carrying up to 7 crew onboard to ensure a relaxed luxury yacht experience. Timeless styling, beautiful furnishings and sumptuous seating feature throughout to create a lavish and comfortable atmosphere. Oculus's impressive leisure and entertainment facilities make her the ideal charter yacht for socializing and entertaining with family and friends. For those who love watersports, we provide an extensive series of equipment to fully enjoy all the ocean has to offer. These include jet skiis, paddleboards, wakeboards, surfboards, tubes , snorkel equipment, snuba scuba gear, kiteboards, and hydrofoils. For stellar off yacht adventuring and fishing, jump aboard T/T Oculus, our 37′ Axopar exploration vessel.
Specs
Builder: Oceanfast
Year: 1996
Length: 128ft
Beam: 24ft
Guests: 12
Cabins: 5
Bathrooms: 6
Draft: 6ft
Speed: 14kn
Refit: 2020
Features
Jacuzzi
Jet Ski
Snorkel Gear
Paddle Board
Tender
Wakeboard
Fishing
Water Ski
Kayak
Miscellaneous Floats
Stabilizers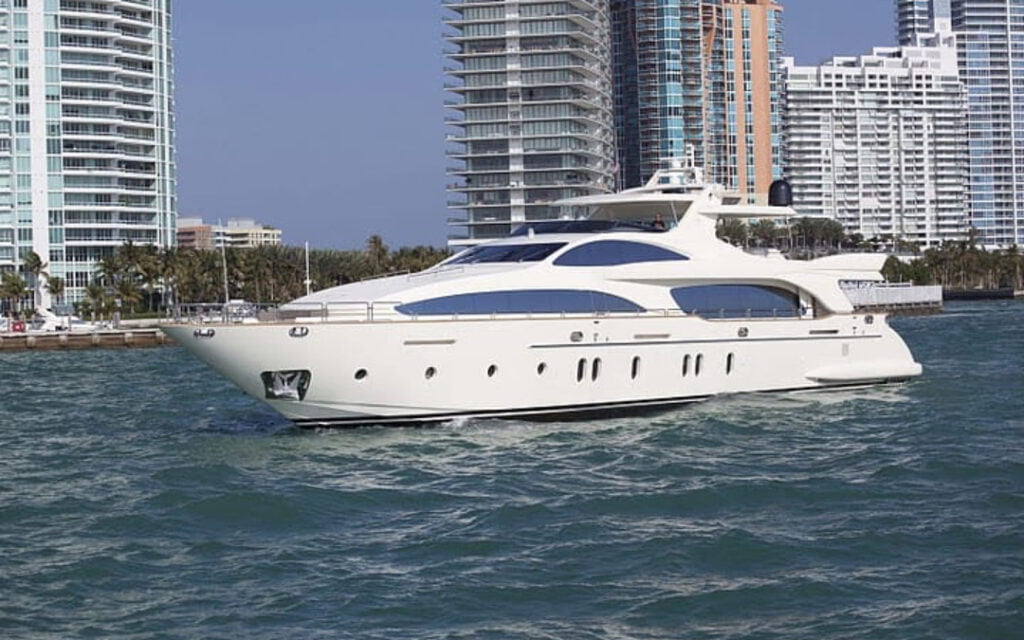 116′ Azimut
AZIMUT 116 is a very special, unique yacht charter offering. Featuring special interest design features and owner preferences like no other super yacht built by Azimut, you will find sumptuous fabrics, furniture and custom treated subtle wood with specially selected earth tones and vibrant, yet distinctive decoration accents throughout the social areas of this fine super yacht Miami. Her entertainment facilities are second to none and living and outdoor space with sky lounge, hot tub and sun lounge are spectacular. The guests can also use a full bar and alfresco dining for up to 12 guests. The area where all yacht charter guests will spend most of their yachting lifestyle vacation, is full of mod con features. Water jets tub is integrated with fibreglass cabined and located in the middle of the top deck. Retractable shower is nearby and two electric bimini tops are integrated into fibreglass arch structure opening out towards both aft and bow on request. Providing shade to the skybridge on request, the guests can use the top deck to relax on one of the luxury chairs, on four bar stools with backrest or in wide fiberglass sofas on starboard side. Two forward sun loungers are ideal for sunbathing while LED lighting and round barbecue cabinet add to the scene. 42" SunBrie Outdoor TV is there to provide additional entertainment.
Specs
Builder: Azimut
Year: 2012
Length: 116ft
Beam: 24.11ft
Guests: 12
Cabins: 5
Bathrooms: 5
Draft: 606ft
Speed: 12kn
Features
88′ San Lorenzo
San Lorenzo is one of the most unique yachts in Miami.
Specs
Builder: San lorenzo
Year: 2020
Length: 88ft
Beam: 23.6ft
Guests: 12
Cabins: 4
Bathrooms: 4
Draft: 6ft
Speed: 16kn
Features
120′ Tecnomar
The 120′ Tecnomar is a super Miami yacht with speed, luxury and minimalist elegance. With a cruising speed of 28 knots, island hopping in style and getting the most out of your itinerary is of no challenge for this amazing yacht. The aesthetic Italian interior design by Novulari – with light colors and touches of wood throughout. The innovative Sun Deck is the perfect place to lounge and acquire the desired golden suntan. She accommodates 12 guests for day charters and sleeps 11 in 5 staterooms; 1 Master full beam stateroom, 2 King guest VIP staterooms, 2 Twin guest cabins with enclosed en-suite heads.
Specs
Builder: Tecnomar
Year: 2011
Length: 120ft
Beam: 24ft
Guests: 12
Cabins: 5
Bathrooms: 6
Draft: 8.5ft
Speed: 28kn
Refit: 2019
Features
Jet Ski
Tender
Inflatable Island
Miscellaneous Floats
Snorkel Gear
Paddle Board
94′ Ferretti
Built in 2019, Ciao II is a lavish mega yacht that can comfortably accommodate up to 10 guests in 5 luxuriously furnished staterooms. Her bespoke fittings and design ensure guests can explore the ocean's wonders in style and comfort. Ferretti super Yacht 920, the splendid flybridge stands out due to the ground-breaking introduction of the "wide body" concept. Beyond its magnificent presents on the water, the raised forward section of the hull has also allowed a "wide-body" master suite to be included on the main deck. In addition to the raised forward section, other stunning aspects include the remarkable number of relaxation spaces and the luxurious furnishings in the outdoor areas. The magnificent interiors rival the versions found in higher category models.
Specs
Builder: Ferretti
Year: 2019
Length: 94ft
Beam: 22.3ft
Guests: 13
Cabins: 5
Bathrooms: 5
Draft: 7.3ft
Speed: 24kn
Features
Paddle Board
Tender
Seabob Scooter
Inflatable Island
Stabilizers
112′ Sunseeker
Built in 2011, Sunseeker 112′ is a luxurious mega yacht in Usa. Do not hesitate to contact us to book one of our yachts Miami.
Specs
Builder: Sunseeker
Year: 2011
Length: 112ft
Beam: 24ft
Guests: 13
Cabins: 5
Bathrooms: 6
Draft: 7.2ft
Speed: 18kn
Features
Jacuzzi
Jet Ski
Seabob Scooter
Inflatable Island
Miscellaneous Floats